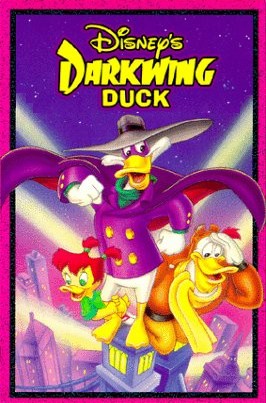 Creator: Tad Stones

Starring: Jim Cummings as Darkwing Duck (Drake Mallard)/Negaduck/ Herb Muddlefoot/Professor Moliarty
Christine Cavanaugh as Gosalyn Mallard
Terry McGovern as Launchpad McQuack

Number of episodes: 91

Original run: 8 September 1991 - 5 December 1992

Original network: Season 1 - first run syndication as part of the Disney Afternoon block of shows, Seasons 2 and 3 - ABC. Seasons 1 and 2 were aired simultaneously in the autumn of 1991. All episodes were included in the syndicated reruns after ABC stopped airing the series in December 1992.

After the series original run was finished, it remained in syndicated reruns until 1994, and then returned from 1996 -1997.

Status: Cancelled/Ended. Last seen in the US on Toon Disney, removed from schedules in November 2004. As of 2006, it is not being aired.